Drug addiction affects a significant number of people across the country. A 2019 National Survey on Drug Use and Health revealed that at least one in every ten adults in the United States abuse illicit drugs.  The numbers are ridiculous, making drug addiction a personal disease that requires specialized and highly individualized treatment.
Unfortunately, once you decide to join a rehab program, you still have to choose between inpatient and outpatient rehab programs.  When your addiction is severe and requires medically assisted detox, inpatient rehab is always the best option.
But when your condition is only mild, outpatient treatment can work for you. Generally, outpatient recovery centers are convenient and flexible because you get the professional help you deserve without interfering with your day-to-day schedule.
The primary goal of every rehab program is to help the patient stop using drugs and maintain a healthy lifestyle.  This blog post discusses everything you need to know about outpatient rehab programs and how they work. So, let us get started.
What Is Outpatient Rehab and How Does It Work?
In simple terms, an outpatient rehab program is a personalized addiction treatment plan that provides a patient with the opportunity to get professional help for their addiction without interfering with their daily responsibilities such as school, work, and family obligations.
It means that when you sign up for an outpatient rehab program, you stay at home and only go to the rehab center for treatment.
However, you need to know that outpatient programs vary significantly in terms of commitment. Some programs require patients to attend weekly sessions, while others have daily sessions. Some programs also offer prescription drugs and proper medical care.
Before the program begins, the patient meets with the staff member to develop a comprehensive treatment plan. The plan usually consists of goals for the treatment to make it effective.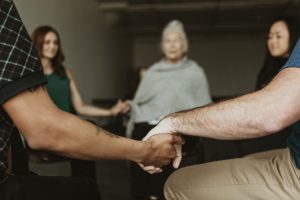 To create a treatment plan, the rehab staff will ask you or your loved one a series of questions about your medical history, family problems, employment, mental health issues, current medications, and much more.
Once the treatment plan has been developed, you will be informed of a set of rules you need to follow during the length of the program. For instance, you may be expected to undergo regular drug tests to ensure you are not still using drugs while undergoing treatment.
You will also be expected to attend all therapy sessions and complete various other assignments besides the regular treatment/therapy sessions.
Understanding the Difference between Inpatient and Outpatient Rehab Programs
One of the most significant differences between outpatient and inpatient rehab programs is that outpatient treatment plans provide the patient with more convenience and flexibility than inpatient programs. The flexibility allows the patient to keep up with work, school, family, or any other obligations required of them.
An outpatient rehab program may be the best option when the patient's condition isn't so severe and doesn't require a heightened level of care. For instance, the program may be the best option for those who don't require medical detoxification or 24-hour care and supervision during treatment.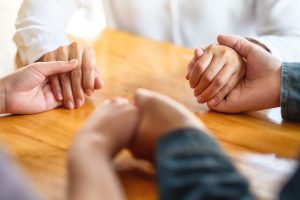 The program is also helpful to patients with severe addiction who have already completed inpatient treatment but still require close monitoring and professional support on their recovery journey.
While outpatient treatment may be slightly different from inpatient treatment, both programs have the unique advantage and outstanding potential to help people struggling with addiction.
What Services Are Offered in Outpatient Drug Treatment Programs?
Like inpatient treatment programs, the services offered by an outpatient plan will vary from program to program. However, many of the services provided by inpatient programs are also offered by outpatient programs. They only differ in duration, frequency, and intensity.
For instance, both programs provide some form of detox to allow patients to safely get rid of the drugs out of their bodies. The only difference is that medical detox is more intense and comprehensive.
Some outpatient programs include pharmacological tools and proper medication management as part of their comprehensive treatment plan. Some of the common outpatient therapies include:
1. Individual therapy
Individual therapy sessions provide an opportunity for patients and their therapists to explore all possible reasons behind the patient's drug addiction while looking at the past, present, and future in a healthy and therapeutic setting.
During these sessions, patients will learn a lot about themselves and set themselves up for successful recovery.
2. Motivational interviewing
Motivational interviewing is a person-centered and non-judgmental approach to helping people decide on the changes they need to make to recover from drug addiction. This therapy is meant to reduce objection towards medication and the general treatment plan.
3. Intensive family systemic therapy
Intensive family systemic therapy is often done over the weekend. It features the entire family unit in an effort to improve communication and the role of the family members in helping the victim.
During this session, family members will be encouraged to provide more emotional support and how to stage an intervention if need be.
4. Cognitive-behavioral therapy
During cognitive-behavioral therapy, the therapist tries to explore how thoughts and behaviors of the patient are connected to figure out what can be done to get rid of the negative behavioral patterns by modifying how the patient thinks. The therapist will also outline coping strategies and a relapse prevention plan.
5. Contingency management
Contingency management is designed to offer small rewards every time a patient remains drug-free. The small rewards are meant to serve as an incentive to stay drug-free.
How Is Social Support During Outpatient Rehab?
Most outpatient rehab facilities conduct meetings early in the morning or at night to help the patients in the program maintain their normal day-to-day schedules. 12-step groups such as Narcotics Anonymous (NA) and Alcoholics Anonymous (AA) can be used as part of the outpatient plan.
Research has shown that participating in recovery groups such as NA and AA can help recovering patients sober up and stay sober. As mentioned earlier, a significant number of recovering addicts usually turn to outpatient rehab programs after completing inpatient treatment to stay on course with their recovery.
Inpatient programs are typically more expensive than outpatient programs because of the on-hand medical care and psychotherapy available. However, the difference in cost shouldn't discourage you from choosing the best treatment plan for you or your loved one.
When Is Outpatient Treatment Plan Right for You?
Generally, outpatient drug rehab is ideal for patients who fulfill the following conditions:
Have mild to moderate drug addiction.
Have an inward motivation to attend all sessions and stick to the treatment plan.
Have a strong support system in place. This includes caring friends and family members.
Can afford transportation to attend treatment sessions regularly.
Have a low risk of withdrawal with medical complications.
However, outpatient rehab may not be the best option for you or your loved one if you have a severe drug addiction. In such cases, your risk of suffering severe withdrawal symptoms is pretty high, and the detox program needs to be carried out in a highly supervised setting.
The program may also not be good for you if you don't have a robust support system, co-occurring mental issues, or have a history of relapse. You should also avoid an outpatient rehab program if you have tried it before, but things didn't work out.
Benefits of Outpatient Rehab Program
Some of the most significant benefits of joining an outpatient rehab program include:
You maintain your employment.
Costs are more affordable for patients who are on a tight budget. In fact, most costs are usually covered by insurance.
Psychiatric care.
There is a lot of motivation and encouragement from your support system.
No need to abandon your family at home.
Allows the patient to improve their quality of life without sacrificing so much.
Provides a wide range of outreach resources such as contacts for sober friends and support groups.
No Matter Your Situation, You Can Get Help Today!
No matter the treatment option you choose for yourself or your loved one, proper rehabilitation can change your life for the better.
At CCIWA, we understand that addiction is a chronic disease, and recovery can be a lifelong process. That is why we have assembled a team of highly experienced and caring Suboxone doctors ready to help you overcome opioid addiction.
Contact us today to find out a Suboxone clinic near you and start your journey to full recovery!